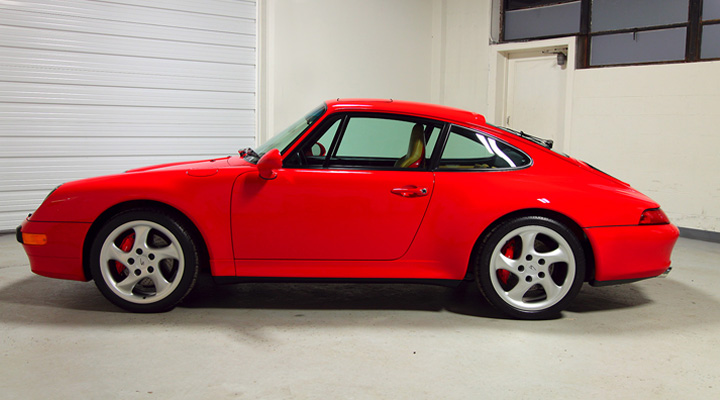 The Ultimate Air-cooled Porsche 911
This is 'it' if you are looking for an 'air-cooled' Porsche 911. The Porsche 993 is the last generation to use air-cooled engines and is the apex of the old-school Porsche 911 . As with the previous generation, the Porsche 993 came in multiple body styles including cabriolets, targa, turbos, all wheel drive, etc. They were also fast with 282 hp for the standard Carrera models and 400 hp for the ultimate Porsche 993 Turbo (which are already highly valued collectible cars). The 993 took everything from the Porsche 964 generation but improved up it including new suspension parts that improved handling. But the most important feature and what has sealed the Porsche 993 as the ultimate in terms of Porsche fans is the curvaceous bodywork.
Porsche added curves to the body of the Porsche 993. This included 'wings' up front by the headlights and front wheel arcs and to the back hips of the car, or area that covers the rear wheels. This has been deemed the correct look of a modern Porsche 911 that is going on in today's current 911 models. As you get to the all-wheel drive models (Carrera 4S and Turbo), the back hips get wider to accompany the wider wheels in the back, which just add more presence to the bodywork.
Currently the Porsche 993 is roaring in the used car market. Normally priced 2 years ago, the Porsche 993 has seen market appreciation of over 100% and still climbing. Low miles and clean model cars are being brought automatically, making it harder and more costly to purchase. If you want the best 'air-cooled' Porsche 911, the Porsche 993 is it.
Click here to learn more about the Porsche 993 on Wikipedia
ARE YOU READY TO FIND YOUR PORSCHE 911?